20 september 2021
Critique of the play OZ
Back to...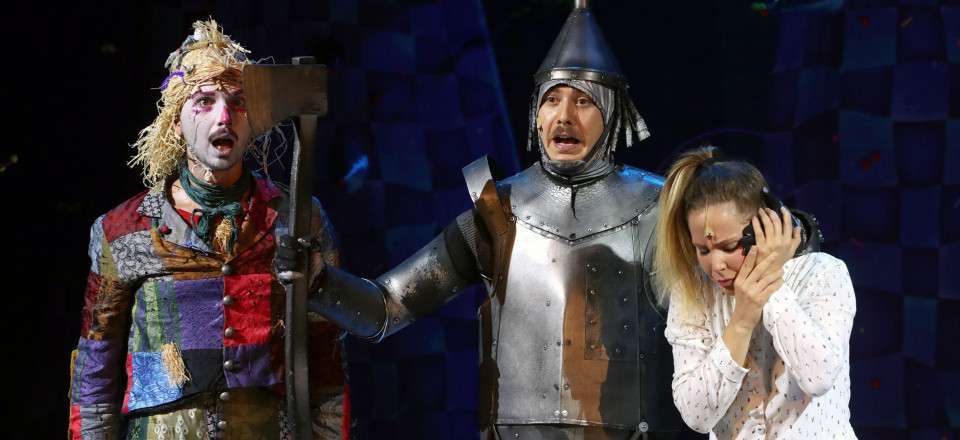 Oz
author: Divna Stojanov
The puppet-play Oz, directed by Róbert Markó and the playwright Orsolya Nagy, produced by the Vaskakas Puppet Theater in Hungary, reminded us of the story of Dorothy, her red shoes and adventures on the way from the magical Oz home to Kansas.
The play was performed entirely in Hungarian without translation, so due to the language barrier, this critique cannot analyze possible changes in the text in relation to the story from Frank Bauman's novel The Wizard of Oz and in relation to the narrative of Viktor Fleming's 1939 homonimous film.
However, the lack of language understanding did not affect the experience of the whole performance in the slightest way. The plot is certainly already known from the book and the film, and from what we saw, it seems that the authors remained quite faithful to the original. Children from the audience who do not speak Hungarian were prepared by educators and teachers and previously acquainted with the content. From the conversations with them, it could be concluded that this approach was extremely good because it directed them to pay more attention to other theatrical elements (directing, acting, sound, light ...), and not just to focus on the text.
From scene to scene, as the ambience changed and as Dorothy, Scarecrow, Tinman and Lion progressed in their adventure, the scenery changed by turning large boards of irregular shape and bright colors. The costume was colorful, luxurious and convincing (scenography and costume: Svila Velichkova), and the acting was brilliant (Rozália Gergely, Levente Bora, Márk Horváth, István Vitányi-Juhász, Anna Markó-Valentyik, Petra Nagy, Tamás Szúkenyik). I would especially like to single out and praised the stage movement (which I myself probably noticed more than in other performances, as this time it was the most important mean of understanding the story). Each character sent his remarks and actions very clearly and consistently with an adequate gesture. After appearing on the stage, the new heroes presented themselves with a song (music by Viki Rab).
After the song ended, a girl from the audience fidgeted and looked around the hall, and then quietly asked her friend next to her: "Where does such good music come from?". I believe that this describes the songs of the play much more accurately than any adjective could.
From Oz, in addition to Dorothy, the whole audience returned sincerely happy!
Back to...