23 september 2020
Vladimir Andrić: Duško Radović gave me freedom and he liked what I wrote
Back to...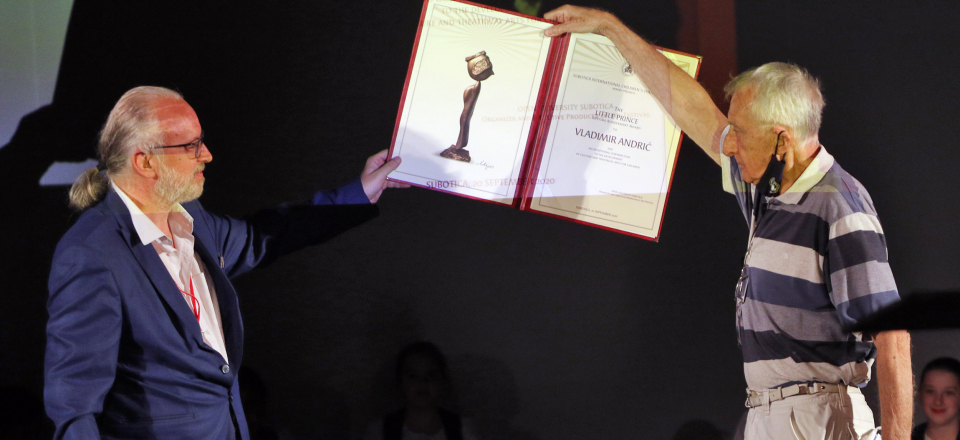 Writer and director Vladimir Andrić (1944) is this year's laureate of the Little Prince Award assigned by the International Children's Theater Festival in Subotica, traditionally awarded for an exceptional contribution to the development of culture and performing arts for children. This extremely prolific artist is known to the general public as the author of about 300 episodes of the puppet series "Good Night, Children", broadcasted for years in the prime time on RTV Belgrade. He is the winner of all important Serbian awards in the field of children's literature and international one - the European Center for Literature and Media for Children, for the book "Give Me the Wings to Try". In addition to his work on television, six of his plays were performed in the theater, and about twenty were performed on the radio. Many of his poems and stories can be found in school textbooks, and "The Adventurer" is a part of the obligatory litterature for primary school.
Andrić started his professional career as a 20-year-old, while he was still a student of directing. He remembers those times: "My father was a lawyer and he gave me nice pocket money, but I still needed money. I asked one of my colleagues who finished acting and worked on the radio as a director of drama programs if there were any stalls there. She inquired and told me that the children's program was looking for texts. I never did that, but I started writing for children, and Nebojsa Nikolic, a great guy, heard that. He found it interesting and took me to do a show for the youngest for him, which I did. I worked for "Happy Tuesday" and "Good Morning, Children", but I did this for him with literary ambitions. Then he recommended me to Dusko Radovic."
Thus, already in his twenties, Vladimir Andrić met the legendary writer and editor, with whom he would then have a long and successful collaboration. "Dusko Radovic had a series called "Name and surname". It was written by various writers. He ordered a work from whoever he trusted in Belgrade. Television then gave him freedom, so that he could buy more texts for recording. These were drama plays for children and about children, which lasted from 30 minutes to an hour and there were about 60 of them in two seasons. He bought 150 texts, some of which were probably not even written. All the summer, between the first and second year of study, I wrote that one play for the late Neda Arnerić, and for two kids from the famous drama group of Bata Miladinović."
Andrić also remembered his first meeting with Duško Radović: "When I came, Radović told me to sit down, and he started to read the text immediately! I read the newspaper, someone served me coffee, and I peeked. He frowned ... but he was only frowned on the outside, of course. He read it and told me it was OK. I brought that text around 10 in the morning. I signed a contract that went through archives, accounting, and so on, and at half-past two I took my first fee."
In the meantime, Radović encouraged him to direct. Although Andrić was reserved because he had never entered a television studio before, Radović hired him for that job as well. "I had a pencil with 6-7 colors and I drew floor plans: where to move the actors, where to go to the cameras because then it was important to record everything in continuity. There was no electronic editing. It didn't go live, it went on tape, but from the first minute to the last. So I started working and after a while, he told me to come to the TV station to get a job as a director. He says - you will direct what you like. That's how I got to the TV, "Andrić described the beginning of his directing and editorial work on television.
About the professional relationship with Radović, this year's laureate of the Little Prince Award says: "I was his henchman. He gave me freedom and he liked what I wrote. He liked some of the songs I wanted to throw away. And he later put them in the anthology. I wrote the song "Hen" at the request of Mile Stanojević Bajford, because he had to go to the studio to improvise a composition in front of the camera. He told me he needed a song in ten minutes. I sit down and scribble the song "Hen". I wanted to throw it away, but Radović read it and said - this is a beautiful poem. Afterward, I liked it too."
Andrić also referred to the private relationship with Radović: "It was very happy cooperation, even though we were not so close privately. Mica Danojlic and he were on the line every morning at five o'clock. He loved Ljubivoje Ršumović as a son. He played cards with Slobo Stojanović. We remained in a very cordial relationship, but I very rarely went to his house, and always with Dragan Babic." He concludes about their relationship: "No wonder that some imaginary Radović lives in me, like my controller. It's like he sits on my shoulder, not letting me write something that isn't at a very high level. I don't always succeed, but I try to make it so."
Vladimir Andrić also recalled working on the famous puppet series "Good Night, Children", which premiered from 1989 to 1993 on RTV Belgrade, which he once got to work as an editorial task. "Fortunately, we had a fantastic puppeteer Gordana Popović. She painted these heroes based on some of my first texts and sketches, so it was easier for me to write. And then, during the filming of the first episodes, I heard and saw actors who borrowed their voices and acting genius to the characters," said Andrić and described the technical challenges during the filming: "We did it a bit partisan-like, on foot. The actors were sitting on one bench, five or six of them had one microphone and two or three meters next to them was a small scenography and animators holding puppets. The main stunt was to achieve the synchronicity of the animators, to open puppets' mouths exactly as the actors were talking, and vice versa. A puppet without their voice would be nothing, and my text without a puppet would also be nothing special. This way, when it all came together, it turned out that we were watched as the prime time News on the first channel. We were lucky to go right before of the News"
On the occasion of the Little Prince Award, Vladimir Andrić used the opportunity to refer to the character and work of Antoine De Saint Exupery. "He was one of the most unusual and authentic person of his time. His life coincided with what he wrote. I advise everyone to read "Land of Men" first, and then his book called "Citadelle".
Back to...