Pop D. Đurđev
Back to...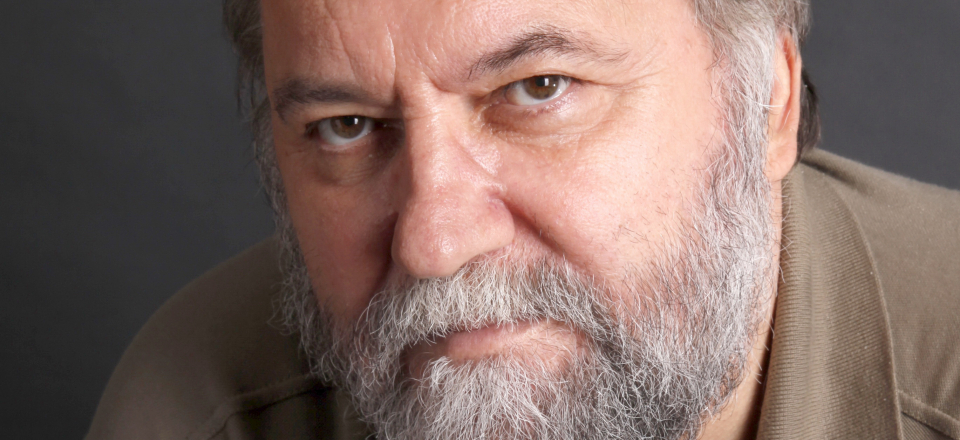 Pop D. Đurđev was born on April 3rd 1953 in Novi Sad. He attended primary school in Novi Sad and a few nearby places, High School in Kraljevo, and he finished his forestry studies at the University of Belgrade. He writes satire, poetry for youth, and takes part in visual research as well. He was a Director of the International Center for Children's Literature, Zmaj Children's Games for over two decades, when he retired. Now he lives in Novi Sad.
So far, he has published following books: Chapters (model-book), 1981; Babylonian Builders (satirical notes), 1984; Eunuch & a Coward (satiric poems), 1987; The Devil (poems for the young), 1988; EPPoems international (visual poems), 1992; Elegies of Honor (satirical poems), 1993; I love av av You (poems for the young), 1996; Book War (satirical poems), 1996; Coloring Book (visual poems for the young), 1998; The Artist of the Raging Worms (poems for the young), 2002; Two Voracious Lions (Playbook of contemporary Serbian poetry for children), 2003; A Farm Full of Charm (poems/coloring book), 2006; Everything that grows, wants to sing (co-author Raša Popov) (Selection of Serbian poetry for children in Serbian and Bulgarian), 2006; Marigold - Uncle Jova's newspaper (reprint edition of Zmaj's Marigold) (co-author Mita Golić), 2006; Virus in a Memorial Center (satirical poems), 2006; Amateur Beasts (poems/coloring book), 2007; Creatures from the Zoo (poems/coloring book), 2008; Somewhere, at the end of the World (autobiographical prose), 2008; Shippers in Word and Pictures (poems/coloring book), 2008; The Flight of Lyon's Icarus (short prose), 2010; Happiness in a Jar (poem/coloring book), 2010; Verse and Avers (writers on European countries' banknotes), 2012; Works on the Milky Way (poems for the young), 2012; Of Apples and Oranges (layouts for pupils with university education), 2013; Madame Tiso, Danube Tiso (poetry/selection), 2014; Mrnjavčević Family (poem/color book), 2016; Poetry to Watch (visual poems), 2018.
For his literary work he was awarded with Muniment of "Stražilovo", Brana Cvetković, Radoje Domanović, Gordana Brajović, Momčilo Tešić, Plavi čuperak, Susret pod staromaslinom awards. He is the holder of The Golden Helmet, Golden key of the town of Smederevo, Golden Gaša's feather (including three silver feathers), Golden Bell of Popularity, is announced a Knight of Čarapanija, The Prince of Children's Empire. He also won the Little Prince for the development of multiculturalism in the region…
Back to...